This year has been extremely hectic for me and most of the JAE Planning team (it probably showed when we came to hook up some music & video!
) ... I've never had a working year like it before, barely any time to catch breath or sit down for 5 minutes. Even leading up to JAE, on the Monday/Tuesday I had a work trip that took me from my home in Sandwich, to Plymouth, up to Manchester then back home again. It is no wonder I passed out asleep by 10:30 on the Thursday!
Had to pass on a big thanks to John Fuggles for organising our power hook-up AFTER the shop had shut, then another thanks to the furniture guy. Thankfully, it's all business to them, but even so, I would hate folk doing it to me it is only fair to offer up a bit of thanks to them.
I had some of the gloss knocked off JAE this year for me; the first time I've attended in a non-MR2 car. Kinda had to as I was picking up the marquee from Chris and 250kg of kit doesn't fit in an MR2. So trusty Bertha (the BMW) the big fat sl*g lugged the gear, but even so, didn't feel right attending in the Beemer.
One thing that shines through Thursday's now is how as a club, everybody mucks in and wants to help. We had that marquee up in no time (probably helped by having the diagram this year - yet another
by me). MR2OC had landed at JAE again.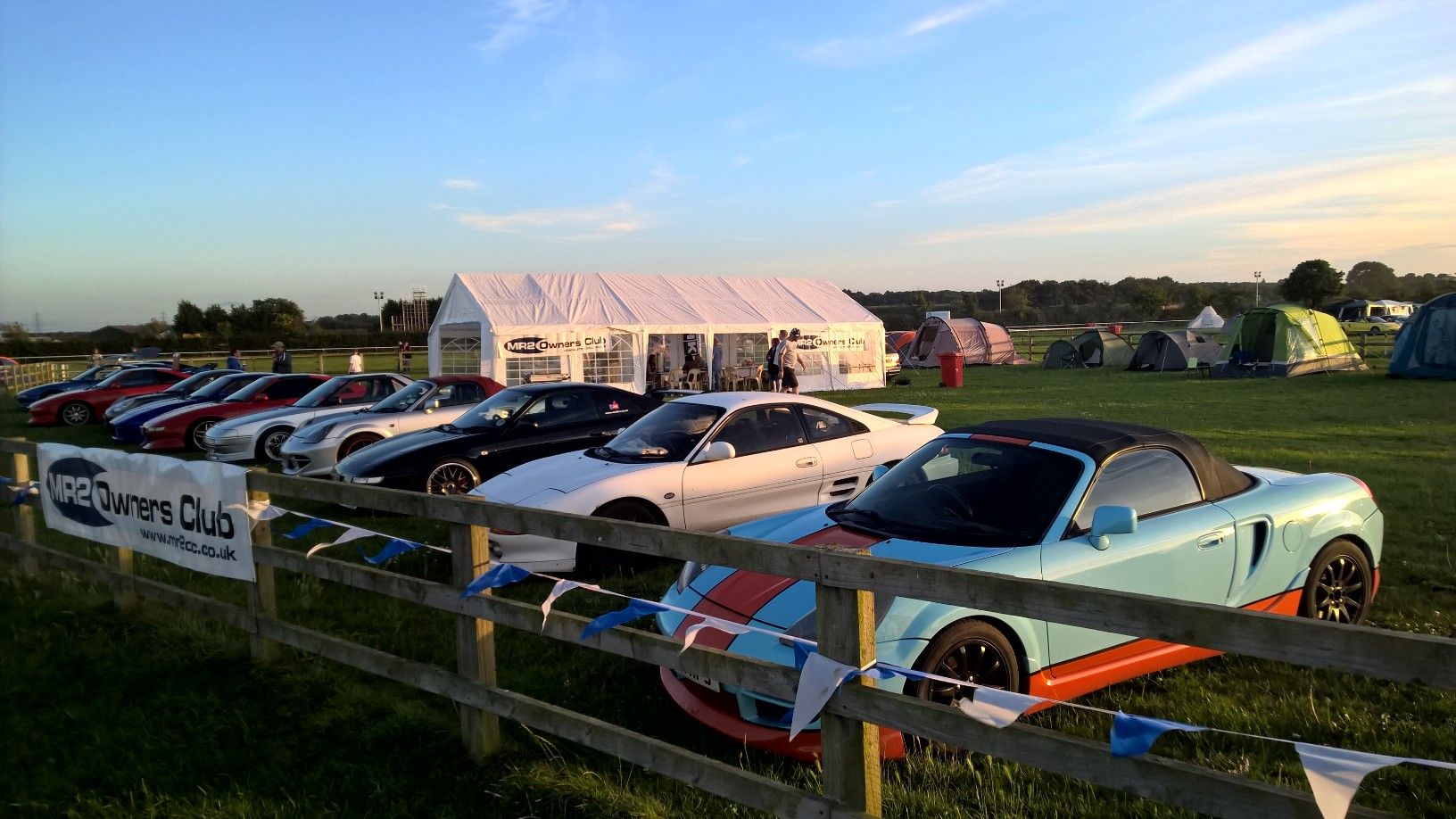 The show itself was notably quiet, not just our stand but every stand; some big clubs missing. Maybe it was the weather that put people off, maybe the ticket price - but that is not for here.
Friday night was the usual epic MR2BQ eve and general larking around. Drinking, laughing, more drinking and then ..... Cards Against Humanity.... Not just any CaH but Cori's 'Bigger Blacker Box' ..This is where you find out at what level some peoples' humour is prepared to go to score a point! Certainly an interesting evening.
Then it all went 'orrible.. Rain. Lots of it.
Saturday was all but lost to rotten weather, a solid 12 hours of the wet stuff. Poor 'pump-boy' had to sponge out his tent. We had little to do aside chew the fat and wait for it to pass. In one brief interlude to the wet stuff, Lewis trekked off to have a look round - didn't make it off the stand!
.. It also put pay to the MR2OC speciality - pulling together for the IKO. This was all delayed until the rain stopped.
Eventually it passed around 3pm and the IKO kicked off (with the mornings missed activities to be run on Sunday). A new-ish club from north of the border (Chasing 7) have some big lads to take on!! Justin, our 5-time champ, lost the IKO car-pull by 0.3secs!!! These guys are a team to contend with. Reece made a valiant effort on IKO endurance but was beaten by some margin by a Chasing 7 guy who clearly eats a lot of red meat... probably on his porridge... after eating an Elk ... raw!
. They'd also won the hot wings and pub quiz the night before - so absolutely deserved winners of 2016 IKO.
By Saturday night I was left thinking... "Maybe it's time for me to take a break from JAE..?" ... To be brutally honest, I felt a little sad about it all.
Sunday is a new day, the sun is shining and we have a few bits of IKO to tackle (points added to 2017), but still feeling a little melancholic .. Gaz rounds everyone up for ToW with the relay and sack race also to run. Something changed that morning, IKO became what it should be ... FUN. Having a laugh and joke with the other clubs that bothered to turn up (Chasing 7, Jap 4x4 and (i think) Team Fuji) ... Importantly, no boo-ing. I'm a pretty thick-skinned person but that has got to me over the past couple of years - despite all my usual bravado and playing up to it.. Sunday was a thoroughly enjoyable morning. We lost every heat of the sack race we entered, we lost the relay too but was all just a good laugh.
ToW ... That's serious of course!
Gaz led us once again to the openweight title, but through a couple of the toughest pulls we've ever had. Next year will be interesting. (that's right .. next year we are there
)
I suppose it was probably partly not having a '2' .. partly the abhorrent weather, partly some well-knowns missing but also partly not having that IKO inter-action that put me in a bad frame of mind. No two ways about it, this was far from the best JAE I've attended but still love it - right, wrong or indifferent.
So the final thank you to all who attended, stuck out the weather and made the best of the bad situations! You're all tops
EDIT ...
V V
Guess it wasn't a party then!!
V V