Greeting's fellow MR2 enthusiast's. I'm a new member from across the pond in Canada, and a very long time old school hard core MR2 owner. I've owned many different Mk1's and Mk2's, but I've owned the red 1989 AW11SC pictured below for more than 30 year's now...
...and it's absolutely minty !!
For the record, I bought one of the first AW11's ( Red, cloth 2-tone seats, moonroof ) that rolled off the boat in Vancouver, and drove it back to Alberta in April, 1985 . I repeated the same feat in the fall of 1987 when I bought my first SC ( Blue Mica, t-roof, cloth seats ) !!!
A Canadian spec model, it's one of only 304 SC's imported by Toyota Canada International (TCI) during the '89 production year. What make's her even more rare is that she was one of the "final fifty" that TCI was forced to take from Toyota Japan.
You might say...
is this dude blabbering on about...????
You see way back in 1989, MR2's were not exactly flying off of Canadian Toyota dealership lots. Au contraire gentle reader. By that time, Toyota had over priced the MR2 into oblivion, and most dealers shunned them. A fully loaded Supercharged MR2 with factory a/c, t-roof, leather & taxes catapulted the price to over $24K CDN. They simply didn't sell anymore, not like they use to.
At the end of the AW11SC production run for North America, Toyota Japan was trying to distribute their remaining inventory, and that's when Toyota Canada was told they had to take 50 of these hard load SC's. It was TCI policy back then that each dealership had to take at least one MR2 during the course of the model year, but there were plenty of store's that refused to take any, no matter what TCI said.
Toyota Japan was adamant, hence pressure from TCI continued and dealers reluctantly accepted them. A few enterprising dare devil store's took multiple SC's from TCI. A Toronto store took 6 (all at once), another Saskatoon store took 15 (ditto), and I think a Vancouver dealer took a few also.
A majority of these cars sat languishing, unloved and unsold for several year's, creating the dilemma of brand new SW20's selling for the same price of these left over AW11SC's.
The remaining unsold AW11SC's were dispersed among the TCI regional zone offices, financed through Toyota Credit and offered up to management to own. Some of these SC's ended up being sold for a loss by these same dealers at wholesale auto auctions.....
Over the years, I've done a few performance mod's including :
* HKS Air Intake with a custom K&N Air Filter
* TRD 4-1 Exhaust Header Manifold that I had ceramic coated - more bhp and less weight
* Cat Removed - replaced with ceramic coated straight pipe - improved exhaust flow & bhp.,
less weight
* HKS Pulley - 12 mm oversize - produces 2 lbs. more boost @ 10 psi
* Trust Exhaust that I had ceramic coated - it's LOUD - less weight over stock exhaust
* Ported and polished head
* Cams - intake & exhaust
* Tokico 5 way Adjustable Illumina Shocks front and rear
* Eibach Springs and Urethane Bushing Kit
* Hayashi Racing (
JDM
)3 piece aluminum wheel's (15's) x Dunlop Sport SP8000's 205/50 - less
unsprung weight
* Mobil 1 Synthetic engine oil
* Red Line Synthetic gear box oil
* Personal Fitti E-3 Steering Wheel 350 mm.
* Zymol "Japon" - the real expensive kind, not the fugazi scat you see @ retail stores
* Over 200 BHP and 100 kilo's in weight saving
This AW11SC has 100% factory original paint, glass, light bulbs and headlights. No accidents, never been hit or abused & a non-smoker. It is my personal interpretation of how the AW11SC should have been equipped when shipped from the factory in Japan. She's a garage queen, and is only allowed off its leash to
rev
and terrorize the unsuspecting on sunny days.
48,000 original 100% documented kms......
I recently took it out of storage to change the fluids and drive it once again. As always, laying my eyes on it excites me. It really is great fun to drive.
Not a lot of people realize how much of a key engineering role legendary race driver Dan Gurney played in developing the original AW11. Toyota hired him for his advice on suspension settings, renting Willow Springs Raceway in California for private testing before the car was offered for sale to the retail public.
I even once had the privilege to actually meet and talk to him about MR2's and other assorted race cars at the USGP F1 race in Phoenix......
. He was super cool to meet, a complete 100 % gentleman with a bone crushing handshake and a infectious smile. He was very generous with his time during our conversation..
My car has the 5 way adjustable Tokico Illumina shocks with the Eibach springs that were sold together as a kit engineered specifically for the SC. I always have my front shocks set to a softer setting than my rears, and had the Dan Gurney /TRD toe and camber settings properly dialed in when I installed everything.
With these suspension settings, my AW11SC is more neutral during hard cornering, exhibiting less understeer while allowing me to control rotation using the throttle and steering input. A 'pointy" front end is what I like and prefer.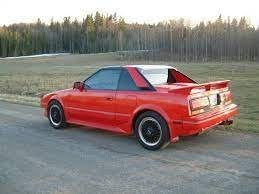 Giving it a bath, sitting in it, punching the throttle hard when driving it and hearing the loud exhaust roar with both windows down and t-roofs off, double clutching through the gears, taking the engine to red line while hearing the blower whistle are the truly beautiful moments that immediately rekindle my on going 30+ year love affair with my MR2.
Most of the service and sales staff had never seen an MR2 when I brought it in to a Toyota dealer for an oil change last month...
Minty AW11SC